Reduce distractions at work.
Scientifically optimized music to help you focus
2 week free trial. Only $9.95 per month. Cancel anytime.
Make better use of your time
Focused attention is your most precious resource. Use the time you have planned efficiently to hit your deadlines with ease.
Stop procrastinating today!
Create a new sustainable work habit. Start a timed 90 minute session, get in the groove and get on with it!
Reduce your distractions
Busy open office, noisy co workers, or domestic distractions at home? This service is a life saver.
Always do your best work
You are capable of great things. Get the promotion you deserve, earn more money and be happy in your work life.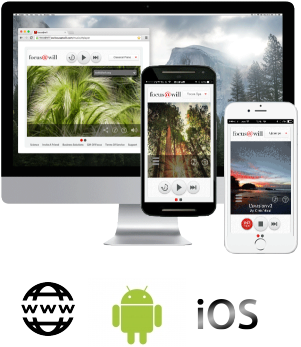 Regular music is distracting!
Your favorite playlist is great for hanging out with friends or going for a run, but it's distracting when you're trying to work.
Our music is created for focus.
Over 50 channels of exclusive remixes to specifically help you focus better.
Don't take our word for it…
More than 20,000 surveyed subscribers say they have increased their attention span from 20 minutes up to 2 hours or more!
Subscribers Love Focus@Will
"Love the app. I live with adult ADD. I am currently in school and also have an extremely demanding job. The music helps quiet all the noise in my head and allows me to focus at my job and during my studies. Complete life saver!!"
"I can't get over how much of an improvement my focus has gained with this program. Working as an adjunct professor and marketing professional, I'm constantly reading, writing, or doing some other activity. I feel that I'm actually finding more free time, because I'm finishing projects with a higher level of efficiency. I can't tell enough people about this service."
"I've been using it for the last 2 weeks via the free trial and it seriously has helped me focus and get more done. I work in a loud office environment so being able to drown the noise out and hunker down has done wonders for me!"
The fact that I've noticed over just the short period of time I've been using Focus@will on the trial that it has helped my concentration. I'm a futures trader and intense focus and concentration is needed to do what I do and stay in the zone….Focus@will is the first application I've found to help me do that consistently. Easy decision to subscribe…
"I had a really productive day this first day that the kids went back to school and focus@will was part of that. I made good progress setting the timer to the time I thought a task could take and trying to finish it before the music stopped."
"This product was exactly what I had been looking to find for years! I had attempted curating my own playlists, downloading my own music and looking up the best study music…but this hands-down is the best piece of software I own! focus@will is an integral part of my small business staff!"




Copyright © 2016 Focus At Will Labs. All Rights Reserved.