Focus@Will Affiliates Make Money!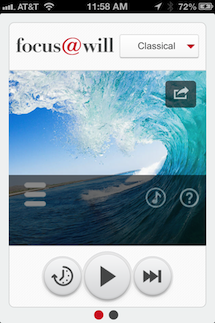 Our Free Trial Offer Converts
Over 12% of Our free trials convert to paid subscription!
On mobile, tablet or computer, listen to multiple music channels scientifically optimized to increase concentration and productivity.
Our Sweet Spot: Male 30-55 (Professionals in Tech, Creative, Law, Accounting, Writing, Science, Executives), Females 25-40 (Professionals and Students)
ShareAsale Affiliates
Affiliate Link: http://www.shareasale.com/r.cfm?B=553087&U=YOUR_ID_HERE&M=50055&urllink=
Merchant Page: Focus@Will
Merchant ID: 50055
Main Offer Price: $8.99/mo, $69.99/annual
Commission Rate: 50% One-Time
Privately Funded By Execs From: Apple, AOL, and Singularity University
A Message From The CEO
Thank you for visiting our page! Focus@Will is a peak performance music system that has been scientifically proven to boost cognition by up to 400%! We have some of the most recognizable names in Neuroscience, ADHD Research, Psychology, Music, and Engineering on our team and we have been growing month-after-month because Focus@Will works, and people can't get enough of it.
I ask you to take a quick minute and watch the video I created to get a better understanding of who we are and what we're up to. Our plan is to invest a lot of time and energy in the affiliate world, and are open to suggestions and ideas to help make this an easy sell for you!
Recent Purchasers Give their reasons
To date, the easiest and best tool found for concentration-centric audio across devices and work locations. One less decision per location (iTunes here, Spotify there, and other streaming services if and when they worked) is well worth the cost. Excited to continue!
It works.
It definitely helps me!!
The trial showed that it helped. Being able to set the timer helps me get started — which is a tremendous challenge sometimes — and then being able to re-set it for a longer term helps me keep going. Thank you.
Need to focus, but you also need to add more music to ADHD category. I'm getting very bored of the same stuff and almost considered NOT using your service again because you refuse to update your music. Only reason I subscribed again is because I have a huge upcoming project and need to zone in. ADD MORE MUSIC. Thanks.
Adhd: I have the smarts and I need a way to harness them!
Good focus music without having to switch genres/channels like Spotify. I really like the new beta wave stuff.
I checked out all the different types of music that the app contains and found some of them very useful for when I am trying to study.
I'm using Focus@Will with Elementary art students at my school and it seems to help keep them on task during open work time.
I have a lot to do as a graduate student and I really needed the extra will power! Thank you so much for a great product.
It seems to help my ADHD when I need to focus. I usually listen to jazz (without lyrics) from my own music collection, but the chilled out vibe of this music seems to calm me while helping me stay focused. Thank you for making this product.
This product was exactly what I had been looking to find for years! I had attempted curating my own playlists, downloading my own music and looking up the best study music…but this hands-down is the best piece of software I own! focus@will is an integral part of my small business staff!
I really did see an uptick in performance when I used focus@will. The pricing in your offer was decent as well.
The music actually helps me to focus better and I got to see that first hand during the trial period.
Invest In Your Own Productivity